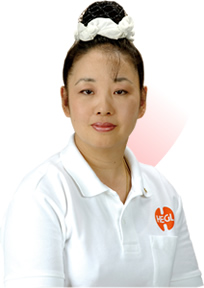 In 1997 I invented the epoch-making technique, the first in the world, of how to read a book and understand its contents, just by turning over its pages.
I called this method of reading "Hado Reading" because it well surpasses even speed reading. "Hado Reading" offers the seemingly preposterous ability of being able to understand the contents of a book within a single second. Anyone can achieve this ability if they commence their training with the Heguru programme at an early age. Once a person has mastered the "Hado Reading" technique, the person will be given the challenge to finish reading 10,000 books within a month. If the person has successfully achieved the goal, then this person will be qualified to join the "ichimankai" TM. At Heguru we feel it is our mission to awaken the hidden talents of children, not just in Japan but from all over the world. Drawing them forth with a smile, that they may blossom to their fullest. We sincerely would like to invite you to learn the Heguru programme to achieve your dreams and live a happy life.

Heguru Official Statement of "Hado reading"
We at Heguru education would like to release this statement in order strongly to claim that "Hado (Wave) reading" technique of Heguru is absolutely different from the other corporations'.
"Hado reading" technique, which is one of the teaching methods in Heguru education with very quick flipping pages of a book, was originally found and erected by the founder of Heguru education, Mrs. Henmi Ruiko. However, we at Heguru education hear that certain corporations facially imitate Hado reading, find that one of them teaches just a kind of speed-reading methods to pupils and their teaching results seem not so satisfied because of not enough understanding of original theories and ways of Hado reading.
In fact, we hear also that those pupils and their families have been complaining about not achieving any result and never been given any proper explanation of the method from the instructors involved. While, only a few Heguru teachers are permitted to teach genuine "Hado reading" as Heguru method, who have ever been visiting Japan several times for hard trainings and got the official license from Heguru headquarters at Tokyo for teaching genuine "Hado reading". By the way, "Hado reading" is just a part of Heguru programme and, even if a method resembles Hado reading facially, the pupils should not get to the same level of full teaching results as Heguru education.
We are greatly disappointed with this incident and firmly against the fake methods.